Send your X-Ray by what'sapp and get a free quote with our experienced dental surgeons.
A dental filling is a procedure in which a dentist fills a cavity or a decayed tooth with a material, such as an amalgam, composite resin, or glass ionomer, to restore the tooth's function and shape. The goal of a filling is to prevent further decay and maintain the integrity of the tooth. Dental fillings are a common and effective way to treat cavities and can be completed in one office visit.
How do I know if I need a filling?
A dentist can determine if you need a filling by conducting a thorough examination of your teeth and gums, including taking x-rays. Signs that you may need a filling include:
Tooth pain or sensitivity when eating or drinking hot or cold foods or liquids

Visible holes or dark spots on your teeth

Constant pain or discomfort when biting or chewing

A feeling of roughness or irregularity on the surface of a tooth
If a dentist suspects that you have a cavity, they may also use a small tool called an explorer to gently probe the tooth. If the explorer sinks into the tooth, it may indicate the presence of a cavity.
It is important to note that not all cavities cause pain, and some cavities may only be visible on x-ray. Therefore, regular dental checkups and cleanings are important for the early detection of cavities, and for the maintenance of good oral health.
Contact us
When you become our client, we are there for you 24/7. Until then, we will get back to you as soon as possible ! So if you have any questions or want to book today, send us a message on whatsapp or email us.
Reasons for needing a tooth filling
The most common reason for needing a tooth filling is tooth decay, also known as cavities. This occurs when the enamel, the hard outer layer of the tooth, is damaged by acid produced by bacteria in the mouth. The acid erodes the enamel, creating holes or cavities in the tooth.
Other reasons for needing a tooth filling include:
Wear and tear: Constant grinding or clenching of the teeth can cause the enamel to wear down, leading to the need for a filling.

Trauma: A tooth may become cracked or chipped from an injury or accident, and a filling may be needed to repair the damage.

Old fillings: Fillings can become worn or dislodged over time and may need to be replaced.
Fillings are a common and effective way to treat cavities and other issues that affect the tooth structure. It is important to address the decay or damage as soon as possible to prevent further deterioration of the tooth and to maintain good oral health.
How Much does it Cost to Get a Tooth Filling in Turkey?
The cost of getting a tooth filling in Turkey can vary depending on a number of factors, such as the type of filling used, the location of the dentist's office, and the dentist's experience and qualifications. On average, the cost of a tooth filling in Turkey can range from $20 to $150.
It is important to note that dental procedures and prices vary greatly, it is best to shop around and consult with several dentists to get a better understanding of the costs involved. Additionally, it is always good to check the credentials of the dentist and the clinic before making a decision, as well as to check if they have any international accreditation.
What to expect during the procedure?
The process of getting a dental filling typically involves the following steps:
Numbing: Before the procedure, your dentist will numb the area around the tooth that needs the filling. This is done using a local anesthetic, which will help to minimize any discomfort you may feel during the procedure.
Cleaning: Once the area is numb, your dentist will clean the tooth and remove any decay or damage. This may involve using hand instruments or a drill to remove the decayed portion of the tooth.
Filling placement: After the tooth is cleaned, the dentist will place the filling material, which can be a variety of options like composite resin, glass ionomer or amalgam. The filling material is shaped and smoothed to fit the tooth, and then hardened or cured with a special light.
Polishing: The dentist will then polish the filling to make sure it is smooth and even with the surface of the tooth.
Bite check: The dentist will check that the filling is not interfering with your bite and make any necessary adjustments.
What are the different types of dental fillings ?
Amalgam fillings: Amalgam fillings are made from a mixture of metals, including silver, mercury, tin, and copper. They are durable and long-lasting, but they may not be as aesthetically pleasing as other types of fillings.
Composite resin fillings: Composite resin fillings are made from a mixture of plastic and fine glass particles. They can be matched to the color of the patient's teeth, making them a good choice for fillings in visible areas.
Glass ionomer fillings: Glass ionomer fillings are made from a mixture of acrylic and glass powder. They release fluoride, which can help prevent tooth decay, and they can be used on both the teeth and gums.
Gold fillings: Gold fillings are made from a small quantity of gold alloy and they are well tolerated by the tooth structure. They tend to be more expensive than other types of fillings but last longer.
Ceramic fillings: Ceramic fillings are made of porcelain and are the most esthetic filling option. They are also highly biocompatible and long-lasting. But they are also the most expensive and require a high level of skill to place.
Choosing the Right Type of Dental Filling With Aesthetic Airways
When choosing the right type of dental filling, there are several factors to consider, including the location of the tooth, the size and shape of the cavity, and the patient's personal preferences. Some of the most common types of dental fillings include:
Composite resin: Composite resin fillings are made of a mixture of plastic and glass, and are popular because they can be closely matched to the color of the tooth. They are also versatile and can be used for both small and large cavities.
Amalgam: Amalgam fillings are made of a mixture of metals, including silver, copper, tin, and mercury. They are strong and durable, and are often used for larger cavities or in the back of the mouth where they will not be visible.
Gold: Gold fillings are made of a mixture of gold and other metals. They are strong and long-lasting, but they are also the most expensive option.
Glass ionomer: Glass ionomer fillings are made of a mixture of glass and acrylic. They release fluoride, which can help to strengthen the tooth and prevent future decay. They are also good options for the aesthetic zone, since they have a similar color to the tooth.
Ceramic: Ceramic fillings are made of a mixture of ceramic and glass materials. They are similar to composite resin fillings in that they can be closely matched to the color of the tooth, but they are more durable. They are also a good option for aesthetic zones.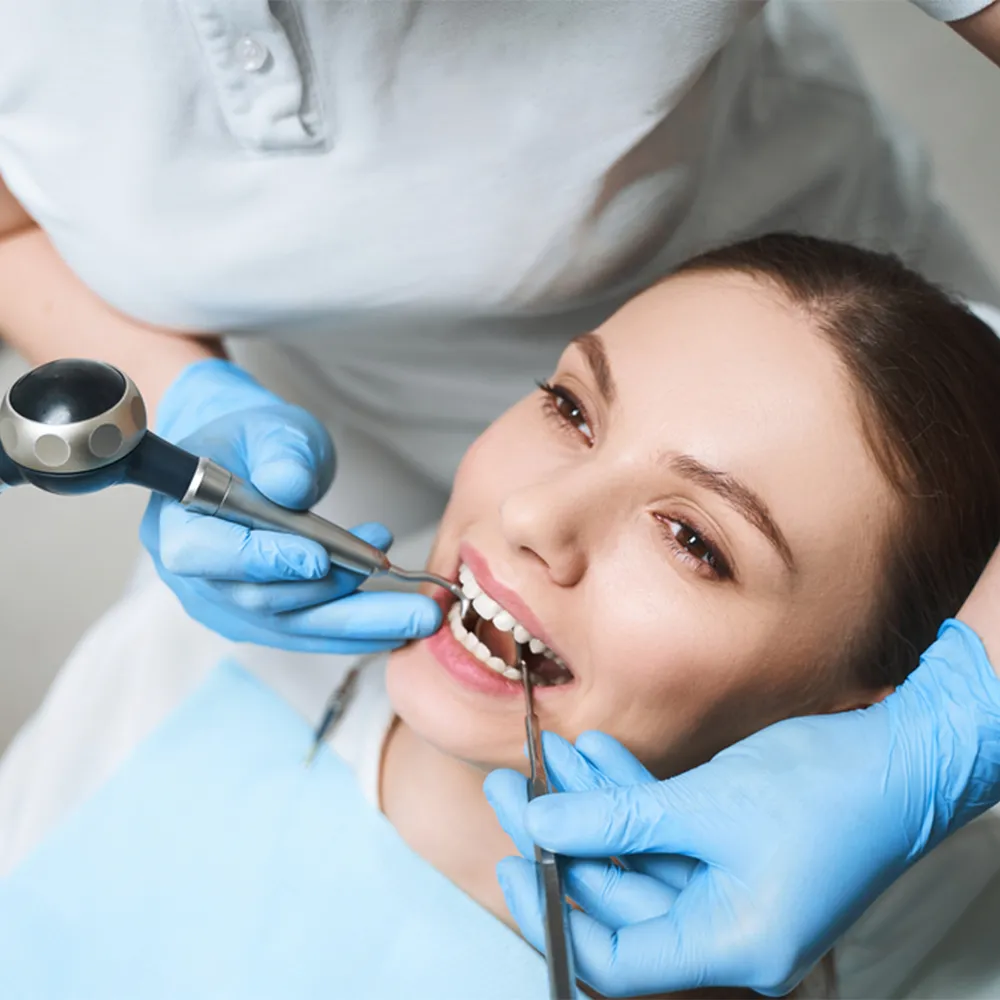 Where can I find affordable dental filling ? 
Aesthetic Airways is a dental practice that offers a variety of services, including quality dental fillings. They may also offer other services such as cleanings, exams, and procedures for oral health. It is best to contact the practice directly to learn more about the specific services they offer.
If you think you might need a filling, we are the right choice
At Aesthetic Airways, we offer affordable dental fillings. Dental fillings can vary in cost depending on the type of filling (e.g. composite vs. amalgam), the location of the practice, and the dentist's level of experience. Some dental insurance plans may also cover the cost of fillings. It's always a good idea to check with the dental practice directly to get a more accurate estimate of the cost and also check with your insurance plan for coverage.
Our patients

testimonials
Ich habe mir bei Herrn Dr. Mustafa Aydinol ein Endoskopisches Stirnlifting + Halsstraffung machen lassen und bin zufrieden. Der Arzt ist sehr freundlich. Ich habe kaum schmerzen und die heilung verläuft super. Die Organisation der Klinik (Transfer,Hotel,Übersetzung) war ebenfalls sehr gut. Ich würde es auf jeden Fall weiterempfehlen.
Klasse Leistung und Service
Après de longue recherche j'ai choisi Aesthetic Airways pour une troisième rhinoplastie avec Docteur Gurhan, et je suis vraiment très très satisfaite. J'ai enlevé le pansement aujourd'hui et je suis déjà très contente du résultat Docteur Gurhan Ozcan est un magicien, je ne pouvais pas attendre mieux. Merci encore au Chirurgien pour ce travail parfait ! L'accueil par Abdul (accompagnateur sur place) à été exceptionnel, un jeune homme très gentil qui donne des conseils et nous rassure du début à la fin. Le personnel de la clinique est aux petits soins et très aimable. Je n'ai pas noté de point négatif. J'ai été agréablement suprise par la qualité de l'organisation, des soins et de l'attention porté. J'ai aussi adoré visiter Istanbul qui est une ville magnifique ! 🤩 Je recommande !
Super Service und sehr schnelle Kontaktaufnahme.
Gjokaj Ardiana
2023-08-04
Super.modern...profesionell ...Ärzte sehr net ..bin mega zufrieden mit Ergebnis...werde weiter empfehlen ..die Ärzte machen super Job ..Respekt
Highly recommended and very professional medical staff Very good people
great experience, easy to communicate and best results.👏🏼
gaith alburghli
2023-07-10
Great experience, they took care of everything from booking the flight and hotel to transportation and i also had great results for my hair transplant surgery.
mohammed aldeiry
2023-07-05
Very happy to choose this clinic I'm very satisfied. Thanks to the team and the doctors